Vultures over Braun Farm
What I thought was the wind blowing through the barn rattling the interior doors and stirring up dust was a turkey vulture launching itself from a roost inside one of the rooms on the upper floor. It quickly flew about two feet over my head too close for me to react to make a photo. Even if I'd been super fast the barn was too dark for an action photo. Best I'd make was a very blurred bird flying by me.
Fortunately, it settled in a window near the peak of the roof to preen and stretch giving me an opportunity for a naturally framed vulture portrait.
The photo definitely falls within the daily criteria of something new, different, and/or better. Never had a vulture fly two feet over my head. Never had one settle in a window of a barn and pose magnificently for a set of photos.
I made too many photos as it moved through a number of leg stretches, and wing extensions, and turns away and toward me. I thought I might frighten it away by moving further away to get a more squared angle on the window but it seemed more concerned with its needs than mine.
I knew that I wouldn't be able to shoot a highly detailed photo showing plumage on the bird and detail within the barn. The lighting was too contrasty. Outside the barn the sun was shining and the inside of the barn was dark with the window on the wall opposite the doorway.
I chose to slightly underexpose to keep the outside from being overexposed and to darken the interior to keep down digital noise in the shadows.
Focused on the bird's feet.
Edited in Photoshop with Adobe Camera Raw and Luminar Neo, my favorites.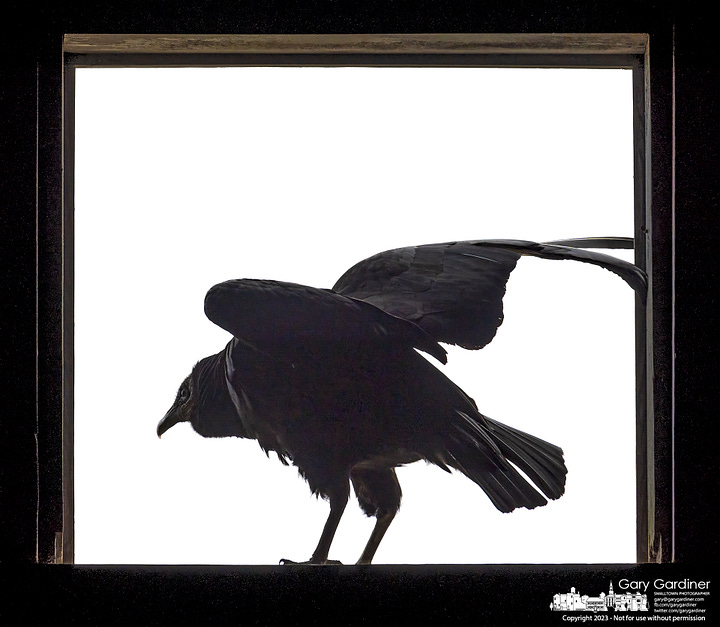 The photo at top is from earlier in the day. Several more from that viewpoint and from inside the barn looking toward the fields and house are included below for paid subscribers. Please consider subscribing to see not only what I publish on social media but what goes into the historical archive. Some days there are many more than these.
This post is for paid subscribers